History
As far back as Huck McCready can remember, he wanted to end up either driving a tow truck ….or a transporter.
So here he is – the boss of Rowe Motors, the Tauranga based trucking company that specialises in towtrucks and heavy transporters
He sits at a desk overflowing with piled up paperwork and a computer that looks like it doesn't get much use and tries to explain it: "I've always liked towtrucks – I dunno why. Maybe I didn't have one when I was a kid or something…wasn't breast-fed or something." He laughs heartily – even though his Mum Inez might not appeciate that one.
Huck is a big bloke – with a big laugh too. But he's not big on words. So don't expect him to wax lyrical about how he's fulfilling all his boyhood dreams. How he was born into this life. You just know he is.
Even now, at the age of 54 and the owner of a business that runs a couple of trucking companies and a big engineering mechanical repair shop, huck still gets to drive some of his 16 towtrucks and transporters.
"Yeah, they still let me – every now and then. Or I force the keys off them!" More laughter before he adds, more seriously: "If we get busy, or if one of the guys gets crook or something, I'll jump in and have a go."
Appropriately for a big man , it's using the big gear that he enjoys. Always has been. These days, it's the flagship of the Rowe Motors towtruck fleet – a 2002 450-horsepower Isuzu that's fitted with a heavy-duty Century 9055 underlift, boom and body built by Miller Industries in the United States.
Back in 1970, when he started work for "the old man" (his Dad Bruce McCready) as a 16 year old fresh out of school, it was salvaging trucks with one of the company's three towtrucks.
With a special dispensation allowing him a heavy truck licence two years early, he immediately went to work driving either a 1936 Chev, a '42 Chev or a seven-tonne petrol-engined TK Bedford.
He was the third generation to join the family firm – Rowe Motors having been started by his Grandad, Bill Rowe, in 1946. It was a pretty basic place – "an old wooden shed, with a dirt floor," recalls Bill's daughter (and Huck's Mum) Inez.
A year later Bill hired a young bloke he'd previously worked with in the workshop at the local GM dealer. That was Huck's Dad, Bruce "Pop" McCready – who ended up marrying the boss' daughter! "That brought him job security straight off!" says Huck, laughing.
Bill Rowe and Pop McCready soon gained a reputation for doing "anything and everything – general repairs and welding, fixing cars, trucks, tractors," says huck. It was, he adds, "like a country garage…in town."
"I can remember old Bill Rowe could fix anything. And the old man was probably better at it than him."
They added Atlantic petrol pumps and built a new workshop, partly timber milled out of some of the Norfolk Pines that had been growing beside the rented Rowe family home, behind the garage.
In a similar do-it-yourself manner, they put two towtrucks on the road. The '36 Chevy was built out of a truck that had been doing the Oropi cream run, with a wooden body added and a power winch they built up from a Ford Model T diff.
Huck can't remember what horsepower it had – only that "it was about a strong as a big onion!"
The '42 Chev was similarly created in the Rowe Motors workshop – out of an old Wealleans bulk fertiliser spreader: "The old man and Bill made the winch on that one out of a Fordson wheel tractor."
His Dad, says Huck, "was a titivator – and he was into making things. They used to forge their own pistons, pour their own bearings and scrape them. If you couldn't buy stuff, you had to make it."
"They were always mucking around with things – they had an old lathe that was probably built before the war and they built anything that they needed."
Not surprisingly Huck McCready spent a lot of his boyhood in the garage and in the trucks: "I used to ride with the old man. I can remember sitting on his knee steering."
And, like his Dad and Grandad before him, he liked building things: "Like I could weld and all that by the time I was in intermediate."
Given the name Ronald, Huck got his nickname as a youngster, when – clad in a pair of bib overalls his Dad had bought for him – he was busy in the workshop, chipping and wirebrushing rust off the chassis off the '42 Chev then being rebuilt into a towtruck.
A regular customer, Paddy Lewis, called in on his way home from a fishing trip, plonked a straw hat on young McCready's head and announced that the kid looked just like Huckleberry Finn. Frome then on, even his own Mum called him Huck.
Bill Rowe bowed out of business in 1962 leaving his son-in-law to run the business. Pop McCready became known as THE towtruck operator on the area.
His wife Inez recalls that "Bill was always towing. His love was towtrucks. The phone would go and it didn't matter what the time was – it was on with the boots and clothes and he was off."
She reckons he was so reliable that, despite other operators starting up in opposition, the cops automatically kept calling Rowes.
During his high school years Huck went to work after school…not at Rowe Motors, but at the local radiator repairer. It was his Dad's idea (definitely not Huck's) that he should do his apprenticeship there…until "the old man got a bit busier and said 'you might as well come and do your apprenticeship with me.'"
That suited the 16-year-old just fine – particularly since he got to drive the towtrucks straight off: "Oh yeah – King of the Road. It was a good feeling." Mind you, he points out, he had already driven trucks for quite a bit. I used to ride with the Wealleans spreader guys, because their depot was based at Rowe Motors when they first came to the Bay of Plenty.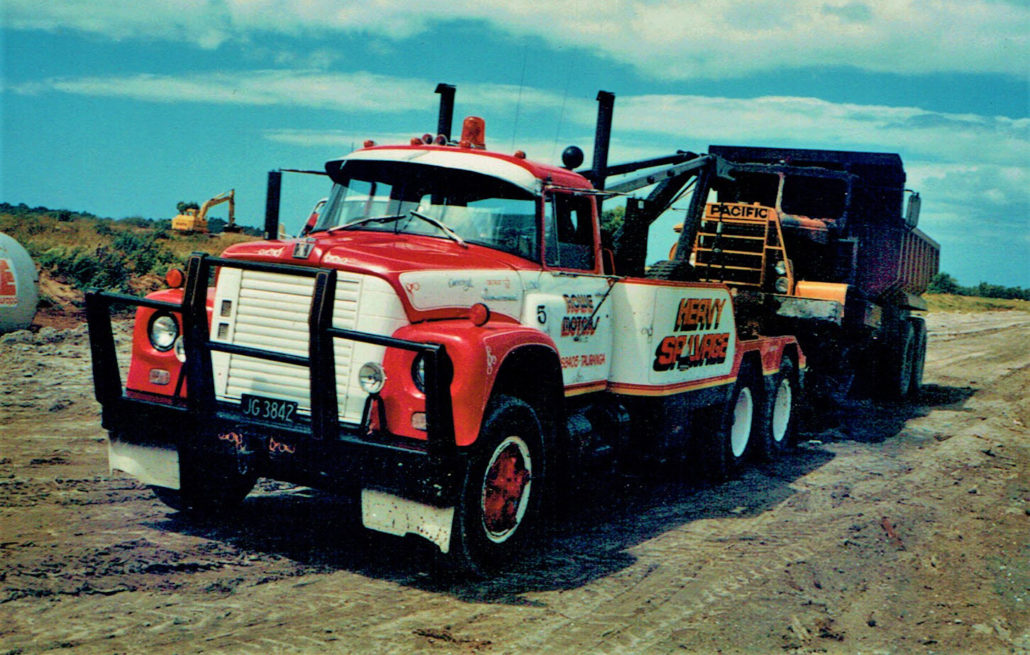 "I used to hook up their trucks and trailers and back them into the fert works for them. So really I could drive probably by the time I was 12. They'd get a flat paddock and they'd open the gate and say 'go on boy spread that.' I had a lot of fun.
"Can't do that anymore eh – you're not allowed to. But that's how we learned – that and driving cockeys' tractors and shifing towtrucks around: Any excuse to shift one."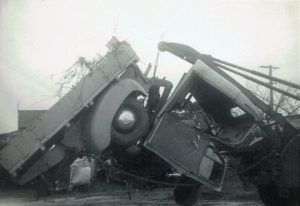 The towtrucks were 4x2s and very modestly powered – but still coped with hauling broken-down trucks, fully loaded, off the nearby Kaimai Ranges. They were, Huck concedes, tough roads to be towing heavy vehicles on – "oh yeah, specially with what they had. Ask what brakes they actually had and Huck just laughs: They didn't. Forget it! You just worked with what you had – got the job done. If you couldn't they'd just have to shoot out and help you with one of the other trucks."
By the time he was 18 (in 1972) the junior McCready w as in charge of the Bedford – the mainstay of the towing fleet: "She had a four-speed with a three-speed auxiliary box behind it and asingle-speed diff. The old girl used to break teeth off the crown wheel all the time so in the end we put a two-speed Eaton diff in it. So she had the works."
In Huck's early days his job was, he says, probably split 50/50 between towing and working as a mechanic in the garage: "The old man ended up doing more of the cars on the towing side and I'd be in the workshop until there was bigger stuff to tow."
The business essentially hasn't changed much in the years since, Huck reckons: "Sure , trucks were less reliable back then. But then the guys used to fix them on the side of the road in the old days. You know, they'd be rolling diffs off on the side of the road and changing gear boxes and stuff like that."
Quite often, Huck or Bruce would be able to sort out breakdowns at the scene: "The trucks all carried a set of points and some hose and you'd try to fix them on the side of the road."
Now trucks are much more reliable…but, on the other hand, there's not much roadside repair stuff going on: "Now there's more of an inclination to call up a towtruck – whether it's because you have to have the right gear (to do any repair work)…and we've got the gear to hook onto a truck properly and drag it into town."
One thing that hasn't changed in the Rowe Motors business is the studied aviodance of getting involved in panelbeating – thuse maintaining independence that has served it well in terms of relationships with the local panel shops.
The old Chevvies eventually ended their days in the 1970's – the '36 model cannibalised – with the towing rig removed and installed on the small TK Bedford powered by a V8 Holden: "The rest of it was cut up and sold. Someone wanted the cab and someone else wanted the back half for a spreader behind a tractor."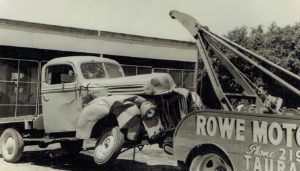 And then, about 1975, "we got our first big truck," says Huck – a 1966 F1800D International six-wheeler with a 212hp V6 engine, five-speed and a four-speed and a tandem drive. Well that's how it ended up – after the ex-Opotiki Transport tipper was taken apart and rebuilt, with a D7 Caterpillar winch on the back of it. Says Huck: "Serious stuff. And still is a serious towtruck – it's at a truck museum in Balclutha. They use it to recover old trucks." He adds, with some regret: "We should still have it."
The young Huck took charge of the conversion: "The old man went to see my brother in Australia so I said to this guy that was working for me – John McIntyre – 'let's have this thing built by the time he gets back. Then there won't be any hassles will there.'
"So we worked nights and days and weekends and when he came back it was parked out-front – painted but not signwritten. Yeah – he was quite surprised," says Huck with a hearty laugh.
The international was a much needed step ahead, he reckons: "The towtrucks needed to get much bigger because the trucks were getting bigger. And, you know, whenever you even looked at a hill in the old TK Bedford – even though it never ever run out of guts (and it should have!) – it made you think.
"If you got halfway up the hill it did run out of guts, how the hell were you gonna hold it there!"
It had, he's quick to add, always done well – considering its 120-horsepower motivation. But its replacement was what Huck describes as "a real towtruck."